iTunes Match Starting to Roll Out Internationally - Spotted in UK, Europe, NZ, and Australia [Not Yet?]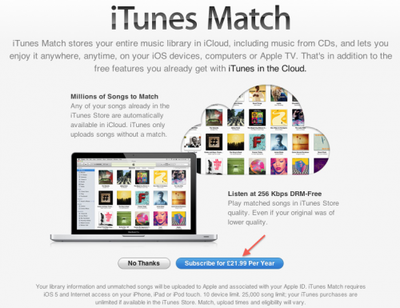 Apple seems to be deploying iTunes Match into international music stores this evening, though there seem to be some ongoing glitches that suggests they could be an early mistake or a partial roll out.
Several readers in the UK and Australia have noticed that iTunes Match is now a sign up option in their iTunes Account information page. Apple has not yet started promoting iTunes Match in the iTunes Store, but the links to iTunes Match are live with localized pricing (see above).
In the UK, iTunes Match costs £21.99 for a year and €24.99 in other parts of Europe. Users are allowed to sign up for it and receive a confirmation email of their purchase but one Twitter report claims it "does nothing" at this stage. For Australian customers, the service is priced at A$ 34.99.


To see if it appears available in your country, log into your iTunes account on your Mac or PC and then tap on your account name to see your account information. From there, you may be able to sign up, though we'd advise some caution as it seems the service isn't fully operational at the time of this writing. Alternatively, you can also try this direct link that opens the page directly in iTunes.
iTunes Match is Apple's music service offers users the ability to match their existing iTunes library with high quality versions in Apple's iCloud. The service originally launched in the U.S. and recently expanded to Brazil.
Thanks Colin
Update: It appears the launch may have been premature. Apple is refunding early buyers and claims it is not available outside of Brazil and the U.S. at the moment.