iTunes Music and Movies Debut in 16 Latin American Countries, Brazil Gets iTunes Match
Following closely after a previously-rumored launch date of December 8th, Apple has now turned on new iTunes Store music and movie content in 16 Latin American countries. The countries seeing the new iTunes Store content include: Argentina, Bolivia, Brazil, Chile, Colombia, Costa Rica, Dominican Republic, Ecuador, El Salvador, Guatemala, Honduras, Nicaragua, Panama, Paraguay, Peru, and Venezuela.
In addition, Brazil appears to have gained the notable distinction of being the first country outside of the United States to offer iTunes Match. We received one report over the weekend from a user in the Netherlands who was able to activate iTunes Match, but that functionality appears to have been a very short-lived glitch.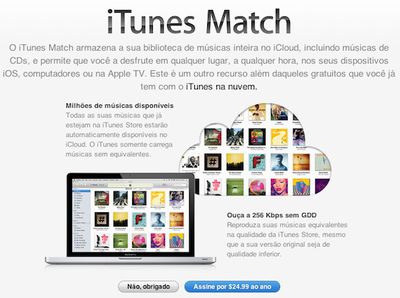 iTunes Match subscription page in Brazilian iTunes Store
MacMagazine.com.br
has a
running commentary
[
Google translation
] documenting the situation as the various components of iTunes music and movie purchases and iTunes Match are going live in Brazil.
As had been rumored for the Brazilian iTunes Store, prices are currently in U.S. dollars, requiring users to fund their accounts with international credit cards. Pricing in local currencies for the Latin American countries is said to be coming at some point in the future, perhaps within six months.
Update: Apple has published a press release announcing the new additions.
Launching with a catalog of over 20 million songs, the iTunes Store in Brazil features local artists including Ivete Sangalo, Marisa Monte and the digital debut of Roberto Carlos' catalog, available to purchase and download along with a wide range of international artists including the Beatles, Rihanna, Coldplay and thousands more. With most songs priced at 99 cents and most albums at $9.99, the iTunes Store in Brazil is the best way for iPad, iPhone, iPod, Mac and PC users to legally discover, purchase and download music online.