The OS X version of Sparrow, a popular alternative mail application, has been updated to version 1.5. The update brings bug fixes and 3 new features:

- Dropbox integration. Drag, drop, send (and sync). Sending a mail with attachment has never been simpler.
- Improved search with tokens and suggestions.
- Remote image blocking for a better Spam control.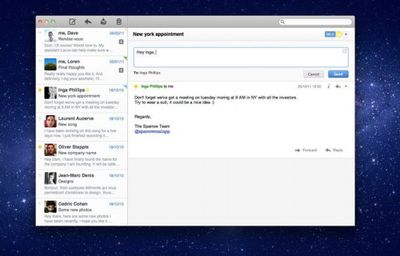 MacStories writes of the update:

New to Sparrow is Dropbox integration, which uploads large attachments to Dropbox as an alternative to CloudApp. If you'd prefer to use Dropbox over CloudApp (or haven't yet connected to one of these optional services), you can visit the Services tab in the preferences to choose your option. You'll have to log out of CloudApp first if you plan on using Dropbox (you have to restart the app to see the new login buttons). If you upload an attachment that's bigger than 25 megabytes in size, Sparrow will choose Dropbox as the alternative host for the attachment and continue to send your message.
Sparrow is available in two flavors, a free, ad-supported version, and a $9.99 fully-featured version.
Sparrow Free is available from the Sparrow website. Sparrow is available for $9.99 from the Mac App Store [Direct Link]