Next-Generation iMac to Potentially Offer Television Functionality?
Forbes reports on a new research note from Wedge Partners analyst Brian Blair suggesting that Apple may bring some aspects of its rumored television set to the iMac with a revision in the first half of next year.
Blair envisions the company pushing the largest screen sizes of the iMac toward the TV market by integrating Apple TV and iCloud features into a slimmer all-in-one PC with TV capabilities.

"We think this makes sense because while we typically think about the newest TV's hanging on the wall in large form factors, Apple could effectively start with what they already have on the manufacturing line and slowly push their offering from 27 inches and scale up from there to 32 inches and then move on to the 42, 50 and 55 inch market," he writes. "In short, we believe the initial Apple TV is their iMac computer that can function as a TV, over the iCloud platform."
While the full context of the claim is not included in the Forbes report, the claim is referred to as "speculation" on Blair's part and no specific evidence to support it is offered.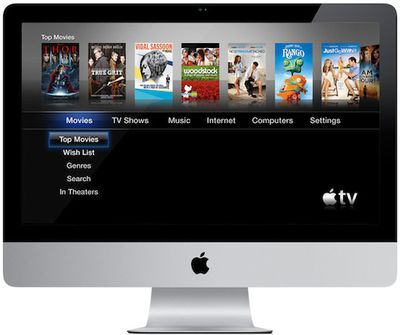 Apple had previous offered its "Front Row" software for OS X, providing users with a full-screen media display to allow easy access to content while interacting with their Mac via the remote control previously included with most Macs. Front Row debuted on the iMac in 2005 and made its way throughout Apple's Mac lines, but was gradually phased out until it was completely removed in OS X Lion.
Apple is said to be developing a television set product featuring Siri-powered voice input, with a release rumored for late 2012 or 2013. An iMac offering some of that television functionality could bridge the gap to the dedicated television set, with the 21.5-inch and 27-inch screens on the iMac suitable for smaller-scale television settings.