Apple Pulls Match.com iOS App over External Subscription Links
TechCrunch notes that Apple has removed online dating service Match.com's iOS app from the App Store over violations of the company's in-app subscription requirements. The Match.com app had allowed users to sign up for subscriptions to the service through an external link in the app, a mechanism that is no longer permitted by Apple as it has sought to drive usage of its in-app subscription services that sees Apple taking a 30% cut of revenues.
Apple has removed Match.com's iOS app because it allowed the lonely to pay for Match subscriptions with a credit card through an external link rather than using the in-app purchases system. That meant Apple wasn't getting its 30% cut. In June Apple revised its policy to state that "Apps can read or play approved content that is subscribed to or purchased outside of the app, as long as there is no button or external link in the app to purchase the approved content." Apple and Match.com are now negotiating how the app must change before their relationship can be rekindled and they can have an earth-shattering makeup revenue split.
Match.com can satisfy Apple's requirements either by offering an in-app option via Apple, which would result in Apple taking its 30% cut, or by simply omitting any links to external payment mechanisms. Under the latter scenario, users would have to know to visit the full Match.com site to sign up for a subscription, an extra step for users which may reduce the number of new subscribers but one that would enable Match.com to avoid having Apple skim off 30% of subscription revenue from the app.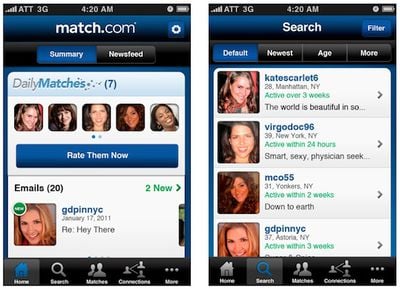 Apple had originally announced that the new in-app subscription requirements would go into effect on June 30th, but the company offered a grace period as it worked with some developers to help them meet the guidelines. Some developers and content providers such as the Financial Times ultimately decided not to adopt Apple's guidelines, and Apple has in those cases removed the apps from the App Store.
It is unclear why it took Apple five months from the official start of the new guideline enforcement to take the Match.com app down. The app was originally introduced back in March 2009 and had been receiving regular updates, but the most recent one had appeared in early June ahead of Apple's new policy implementation. Match.com may simply have been avoiding submitting any updates or investing further in the app while it either discussed options with Apple or hoped to remain under Apple's radar, but it seems that Apple has decided that the best way to encourage compliance was to remove the app for the time being.