Survey Finds 96% of Customers Satisfied with iPhone 4S
Research firm ChangeWave today released the results of an early November survey of over 200 iPhone 4S owners, finding that 96% of them registered as either "very satisfied" or "somewhat satisfied", up from 93% for the iPhone 4 following its launch last year.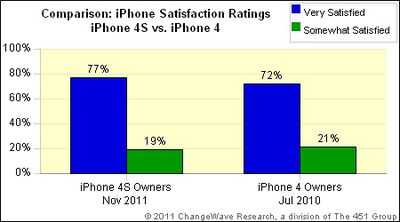 Siri topped the list of most-liked features on the iPhone 4S, with nearly half of survey respondents citing it. Other positives include the ease of use, the new 8-megapixel camera, and faster browsing. On the downside, battery life issues and a lack of 4G (LTE) capability easily led the pack of complaints.
Two-in-five owners said they had experienced reduced battery life with their iPhone 4S (40%). But when asked how much of a problem this issue was for them, only 8% of all owners said it was a Very Big Problem while 20% said it was Somewhat of a Problem.
ChangeWave has long focused on dropped calls as one of its metrics, and the current survey reports a dropped call rate of 2.5% for the iPhone 4S, down significantly from the 5.2% rate for the iPhone 4 just after its launch. The significant drop is due in large part to Verizon now offering the iPhone, as Verizon iPhone 4S owners reported a dropped call rate of only 1.3% while AT&T iPhone 4S owners reported a rate of 4.1%. Sprint's iPhone 4S dropped call rate was not broken out in the survey.