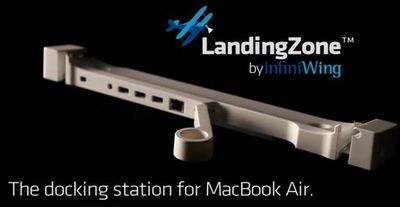 The LandingZone is a docking station for the MacBook Air that hopes to become a reality via Kickstarter pledges. The dock circles the end of the MacBook Air, plugging into the ports on both sides of the device and including a full range of ports on the back -- including a 10/100 ethernet port and a Kensington-compatible lock, two things the MacBook Air lacks. The planned retail price of the LandingZone is around $200, but can be purchased with a $159 pledge.

LandingZone is a docking station for the MacBook Air. We love the MacBook Air for its beauty and functionality. The MacBook Air deserves a docking station that's just as beautiful and functional. So we designed one and we think it's pretty cool. We hope you agree.

- Total of 4 USB 2.0 ports; no need to attach a separate USB hub
- Built in 10/100T Ethernet port; no more dongles for the Ethernet or fumbling with the cable
- Built in Mini DisplayPort capable of driving resolution up to 2560x1440
- Built in locking port compatible with all the Kensington Locks; now you can secure your MacBook Air
- Two models to support either the 11" or 13" version of the MacBook Air (2010 or later)
- Beautifully designed and engineered for simplicity, elegance, reliability and functionality (patent pending)
- Comes with US power adapter which accepts wide range of input voltage (100~240 Vac)
The project is
looking to raise $50,000
by January 1st, 2012 to begin production of the LandingZone. 111 backers have pledged more than $17,000.