Apple Ranks as Fifth Most-Visited U.S. Online Retail Site on Black Friday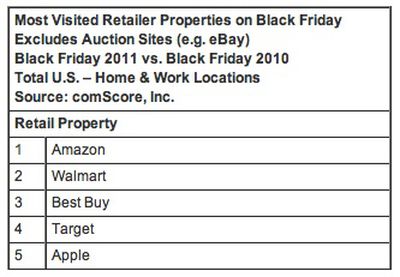 Market research firm comScore today released data on U.S. online shopping for Black Friday, showing strong sales of $816 million, up 26% over last year's numbers. According to the data, Apple ranked as the fifth most-visited online retailer in the country on Black Friday, trailing Amazon, Walmart, Best Buy, and Target. comScore noted in a statement to AllThingsD that Apple was "nipping at Target's heels" for fourth place in the rankings.
Fifty million Americans visited online retail sites on Black Friday, representing an increase of 35 percent versus year ago. Each of the top five retail sites achieved double-digit gains in visitors vs. last year, led by Amazon. Walmart ranked second, followed by Best Buy, Target and Apple.

"Each of the top online retailers generated significantly greater Black Friday activity compared to last year," added [comScore chairman Gian] Fulgoni. "Amazon.com once again led the pack, with 50 percent more visitors than any other retailer, while also showing the highest growth rate versus last year. However, it is telling that the top multi-channel retailers also showed strong growth in visitors, demonstrating the importance of the online channel to the retail industry as a whole."
In addition to its online retail presence, Apple obviously also operates an extensive network of retail stores, with nearly 250 locations in the United States. The company's products are also carried by the four online retailers that ranked ahead of Apple in Black Friday traffic, increasing its impact for what is expected to be a blockbuster holiday quarter for Apple.