Porn Site Operator Turns Over iPhone-Related Domain Names to Apple
Earlier this month, we noted that Apple had filed a complaint under the Uniform Domain Name Dispute Resolution Policy (UDRP) in an attempt to gain control of several iPhone-related domain names that had been registered by another party and set to forward to a porn site. Most notable among these domain names was iPhone4S.com, the highest-profile domain associated with Apple's new iPhone hardware.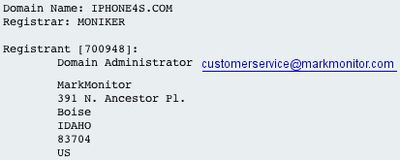 Domain Name Wire now reports that Apple has won control over the domain names in question, as the UDRP case has been terminated following the defendant's agreement to turn the domains over to Apple.
Apple terminated the case after the owner of the domains agreed to turn the domain names over. The whois record for the domains changed to brand protection company MarkMonitor today.
MarkMonitor is the brand protection agency used by Apple and a number of other large companies to anonymously manage such holdings as domain names. As a word of warning to our readers, the domain names in question continue to forward to the porn site at this time, as the site continues to point to the previous owner's DNS server settings and only the various contact information fields for the site are appearing under MarkMonitor at this time.
Of the seven domain names, Apple is only expected to utilize iPhone4S.com, which it will presumably redirect to the company's main iPhone page at some point in the relatively near future. Apple will likely simply shut down the other six domain names while preventing others from using them.