Nationwide Study Shows AT&T Has Fastest iPhone Data Speeds, Sprint Most Dropped Calls
According to a study by Metrico Wireless, a mobile performance measurement company, AT&T has the fastest iPhone 4S data speeds for both upload and download. Sprint's data speed is roughly five times slower, echoing earlier anecdotal reports of poor Sprint data connections.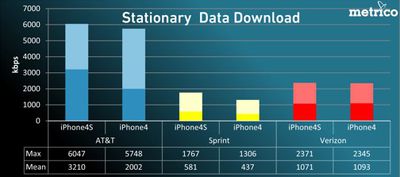 In all, Metrico performed 21,000 Web page downloads nationwide with the iPhone 4S and iPhone 4 over the networks of the nation's largest three carriers. Metrico also ran more than 8,000 data download and upload tests and generated about 6,000 voice calls with recorded human voices. The tests were performed in a certified lab as well as several locations in five unnamed cities that Metrico called "representative of [network] conditions nationwide."
Metrico claims Sprint has the highest voice call quality on the uplink -- when the iPhone owner is speaking -- while AT&T had the highest quality on the downlink.
For dropped calls, something for which AT&T has been consistently criticized, Sprint comes out worst. Metrico claims Verizon experienced a 2.1% call failure rate while AT&T had 2.8% and Sprint was worst at 3.7%.
Computerworld noted that part of the intention of the nationwide study was to show "how performance problems in one city reported by the news media and bloggers shortly after a phone is launched can be less relevant over the entire network over time."