Sprint iPhone Users Complaining of Slow 3G Data Speeds
Some Sprint customers are reporting slow data speeds now that the iPhone has finally launched on the country's number three network.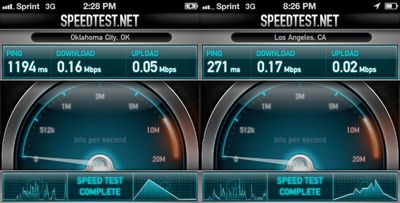 There is a lengthy thread on Sprint's discussion boards, with iPhone 4S owners reporting extremely slow data speeds on launch day. Some report having difficulty using Siri over 3G because Sprint's data network was being so unreliable. One user said his Samsung Epic Touch with 4G turned off returned 3-times faster speeds than his iPhone 4S in the same location. Another Sprint user claims that his new iPhone and his Evo 3D are both slow.
A thread in the MacRumors forums shows that while some users are having poor data speeds on Sprint, others are having no problems, so it could be a signal strength or location issue rather than a widespread network problem. Gizmodo's unscientific speedtest survey is showing dramatically slower speeds for Sprint than either Verizon or AT&T. Sprint is the only U.S. iPhone carrier that offers unlimited data to new customers.
It's unclear if this is just launch-week jitters, a more widespread problem with Sprint's network, or something in between -- as more and more Sprint iPhones arrive in the wild, we should get a clearer picture of Sprint's ability to handle lots of new data-hungry iPhone customers.