iPhone 4S Launches to Long Lines in Hong Kong and South Korea
The iPhone 4S officially launched in fifteen new countries today, with Hong Kong and South Korea being two of the highest-profile new markets.
M.I.C gadget followed the opening in Hong Kong, noting that over 3,000 people showed up at Apple's massive new flagship store in the IFC Mall. But Apple staff reportedly allowed only 1,250 of those people to line up for the device, resulting in a significant number of people being turned away and milling about in advance of the opening.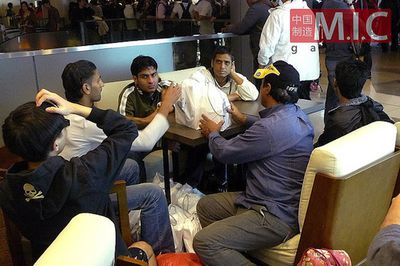 Hong Kong scalpers collecting bags full of iPhones for gray market distribution
Hong Kong has long been a popular market for scalpers given its close proximity to China proper and its lack of sales taxes and VAT. Given that the iPhone 4S has not yet launched in China, the Hong Kong launch was indeed primed for a significant gray market push from scalpers.
M.I.C gadget
notes that the vast majority of people in line at the Hong Kong Apple store appeared to be purchasing on behalf of scalpers, with many of them having been paid to stand in line and purchase the maximum of five devices. Following pre-orders last week that
sold out in just ten minutes
, reports indicate that Apple's retail store sold out of its own stock within three hours.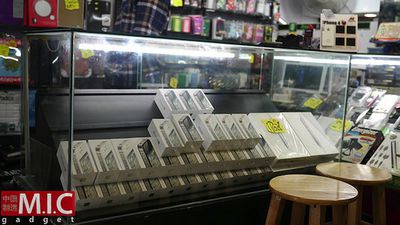 Gray market dealer in Hong Kong already offering dozens of iPhone 4S units for sale
M.I.C gadget
also details how quickly the scalped devices made their way to gray market dealers, with some offering as many as 50-100 iPhone 4S units for sale within a few hours of its official launch.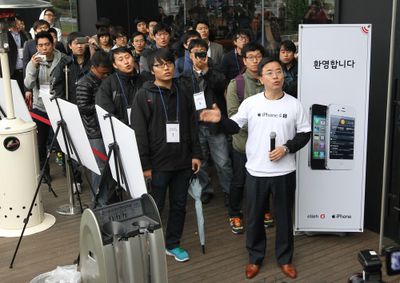 iPhone 4S line at flagship KT store in South Korea
iPhone 4S lines were also long in South Korea, as
reported by Yonhap
, with carriers KT and SK Telecom serving as the primary launch locations given the absence of any official Apple retail stores in the country. SK Telecom invited the first 100 pre-order customers to a midnight launch event with local hip-hop artists and other fanfare, while KT opted to focus on the more traditional customer lineup for the morning launch of the device.
In addition to Hong Kong and South Korea, the iPhone 4S also launched today in Albania, Armenia, Bulgaria, El Salvador, Greece, Guatemala, Malta, Montenegro, New Zealand, Panama, Poland, Portugal, and Romania.