'Consumer Reports' Satisfied that iPhone 4S Fixes Antenna Issues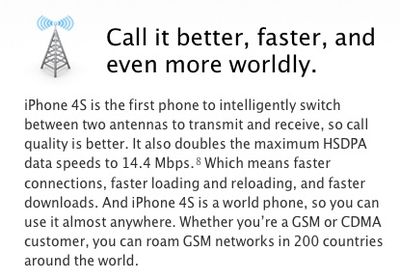 Influential ratings and reviews magazine Consumer Reports, which famously refused to recommend both the GSM and CDMA iPhone 4 models due to antenna issues, has now determined to its satisfaction that the iPhone 4S does not suffer from the same issue. The determination means that Consumer Reports is now willing to list the iPhone 4S as a "recommended" device.
Apple's newest smart phone performed very well in our tests, and while it closely resembles the iPhone 4 in appearance, it doesn't suffer the reception problem we found in its predecessor in special tests in our labs.

In special reception tests of the iPhone 4S that duplicated those we did on the iPhone 4, the newer phone did not display the same reception flaw, which involves a loss of signal strength when you touch a spot on the phone's lower left side while you're in an area with a weak signal.
Early reports from users had indeed suggested that the iPhone 4S did not possess the antenna issue that some users had complained about in the iPhone 4, but Consumer Reports clearly undertook its own testing of the device for its assessment. Consumer Reports also indicates that the 8 GB iPhone 4, introduced alongside the iPhone 4S as a lower-cost device, does continue to suffer from the antenna problem.
While Consumer Reports is now able to recommend the iPhone 4S, it does not list the device at the top of its smartphone rankings, placing it below several Android phones with larger displays and support for faster cellular networks. That was not the case last year, when the magazine ranked the iPhone 4 first among smartphones despite the antenna problem that led it to withhold a "recommended" rating.