iOS Surges Past 60% Share of Mobile Web Traffic
Net Applications has released its latest monthly data on Web traffic, revealing that Apple's iOS was able to ride the strength of the iPhone 4S launch and continued iPad momentum to surge past a 60% share of traffic. According to the data, iOS was responsible for 61.64% of the mobile Web traffic during October on a geographically weighted basis.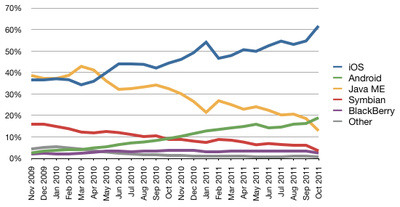 Net Applications Mobile/Tablet Top Operating System Share Trend (Nov '09 – Oct '11)
Apple's dominant share comes from its strong position across all three mobile device segments with the iPhone, iPad, and iPod touch. Google's Android operating is also seeing very strong growth in line with its rapidly-growing device sales, but Android's popularity has primarily been restricted to smartphones.
On the PC/Mac side, Apple is also continuing to increase its share of Web traffic, reaching 6.94% in October, a healthy increase of nearly half a percentage point over September and up nearly a percentage point and a half since April.