Apple Updates GarageBand for iOS with iPhone and iPod Touch Support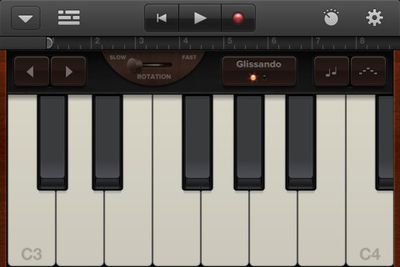 Apple today announced the launch of GarageBand for iPhone and iPod touch, making the previous iPad-only version a universal app.
"GarageBand on iPad has been a big hit and we think customers will love using it on their iPhone or iPod touch," said Philip Schiller, Apple's senior vice president of Worldwide Product Marketing. "The innovative Multi-Touch interface combined with Smart Instruments makes it easy to create great sounding music, even if you've never studied music or played an instrument before."
GarageBand [App Store] is available in the App Store for $4.99, with the new version 1.1 bringing iPhone and iPod touch support and several other enhancements.
What's New in Version 1.1

- Universal app designed for iPad, iPhone, and iPod touch
- Create custom chords for Smart Instruments
- Support for 3/4 and 6/8 time signatures
- Reset song key without transposing original recordings
- Transpose songs in semitones or full octaves
- Additional quantization options for recordings including, straight, triplet and swing
- New audio export quality settings for AAC and AIFF (Uncompressed)
- Arpeggiator available in Smart Keyboard
- Adjustable velocity settings for Touch Instruments
- Numerous enhancements, including automatic fade out and improved audio import options
The update is just going live now and should be rolling out to all markets at this time.