Apple Posts Steve Jobs Celebration Video from October 19th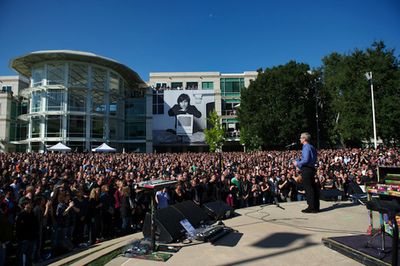 Apple has posted a video from the Steve Jobs memorial/celebration held on Apple's campus on October 19th, 2011. The 80 minute video is available on Apple's site. All of the retail stores were closed during the event so that everyone could watch. Apple CEO Tim Cook opens the video:
The last two weeks for me have been the saddest in my life by far. But I know Steve. And Steve would have wanted this cloud to lift for Apple and our focus to return to the work that he loved so much. So it's with that spirit, that we wanted to get the entire company together today to celebrate Steve's extraordinary life and many accomplishments he had across his life.
Update: It seems to not be working for some. (Note that streaming video requires Safari 4 or 5 on Mac OS X Snow Leopard or Lion, Safari on iOS 3 or later, or QuickTime 7 on Windows.)