Apple Sells Out of iPhone 4S Pre-Order Stocks for Launch Day in U.S.
Following the lead of international pre-orders, new orders for the iPhone 4S made through Apple's U.S. online store are now listed with shipping estimates of 1-2 weeks, indicating that the door has closed on the opportunity for customers to pre-order the device through Apple for launch day delivery.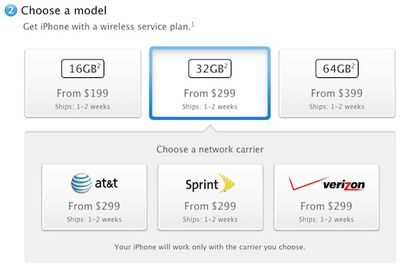 Demand for the iPhone 4S appears to be very strong, with AT&T having reported that it alone had taken 200,000 orders in the first 12 hours of availability. Apple's online store struggled to keep up with the traffic as pre-orders went live, with company eventually resorting to offering order temporary reservations as connections to carriers' systems to verify eligibility and service plans became overwhelmed. Users who received reservations from Apple in the first few hours of availability have until 5:00 PM Pacific Time on Saturday to return and complete their orders before losing their priority standing.
The iPhone 4S will launch next Friday, October 14th in the United States, Australia, Canada, France, Germany, Japan, and the United Kingdom.