Sprint Aiming to Launch LTE Network in Mid-2012, Full Buildout by End of 2013
Reuters reports that Sprint is significantly accelerating its transition from WiMAX to LTE for its 4G network technology, aiming to complete its LTE buildout by the end of 2013.
Sprint Nextel Corp plans to upgrade its network in time to launch high-speed wireless services by the middle of 2012 and expects to complete its upgrade by the end of 2013, a top executive for the company said on Friday.
Engadget notes that Sprint is planning to offer LTE coverage for 123 million Americans by the end of 2012, increasing to over 250 million by the time the buildout is complete a year later.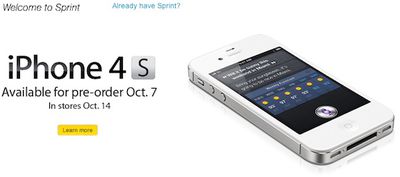 Reuters also notes that Sprint CEO Dan Hesse addressed the carrier's offering of the iPhone, for which pre-orders began just hours ago. With sources claiming that Sprint has committed to purchasing $20 billion worth of iPhones over the next four years, there have been concerns over the short-term hit to Sprint's profitability as it absorbs hundreds of dollars in subsidies for each unit until it earns the money back over time in service contracts.
But Hesse reports that iPhone is ultimately expected to be one of Sprint's most profitable handsets over time.
The company, which started taking pre-orders for the Apple Inc iPhone on Friday, said that while the device is more expensive than others, the iPhone will be "quite accretive" to profitability and cash flow over time.

Chief Executive Dan Hesse said he expects the popular device to be one of Sprint's most profitable, but he did not give specifics.
While the iPhone 4S does not support LTE, it seems that component availability could be lining up for an LTE iPhone by the third quarter of next year, by which time Verizon and AT&T will have fairly substantial LTE coverage and Sprint will be in the early stages of its rollout.