No LTE or WiMax for New iPhone, Launch on October 14th?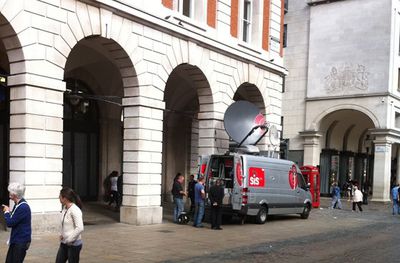 Satellite TV truck outside Covent Garden retail store in London (Thanks, Connor)
The Wall Street Journal confirms
the widely-held belief that the iPhone 4S/5 set to be introduced later tonight will not support the fastest current data networks built on LTE and WiMax technology. The news is not much of a surprise, but such last-minute reports by mainstream news outlets such as the
Journal
are frequently thought to be controlled leaks by Apple to help frame expectations for its upcoming announcements.
According to people familiar with the company's plans, the hotly anticipated device won't operate on long-term evolution or WiMAX fourth-generation networks. Those wireless networks promise speedier downloading to mobile devices of episodes of television programs, as well as cute baby photos.

The people said the device will work on 3G networks, which are broadly in use today and are the standard for the current iPhone 4. AT&T says its HSPA+ network has 4G-like speeds.
The specific mention of a lack of WiMAX compatibility would seem to put a significant damper on yesterday's highly questionable rumor that a redesigned iPhone 5 could in fact debut today as a WiMAX-capable device exclusive to Sprint until an LTE version comes out next year.

Covent Garden retail store transformed into theater for press simulcast of media event (via Matt Brian)
Meanwhile,
9to5Mac shares
a couple of "uncorroborated" tips it has received claiming that the next iPhone will launch on October 14th and that the iPhone 4S could come in at $99/$199/$299 price points for 16 GB/32 GB/64 GB models. Such a pricing structure would likely mean that the 8 GB iPhone 4 reportedly set for introduction would be priced at $49 with an iPhone 3GS potentially available for free. All of the listed prices would be for on-contract devices.
October 14th has been rumored as a likely launch date based on vacation blackouts at Apple retail stores. The date would also match up with previous intervals between iPhone announcements and launches, as well as claims of a "mid-October" launch for the device.