Apple Asking Developers to Submit iOS 5 Apps Ahead of October 12th Release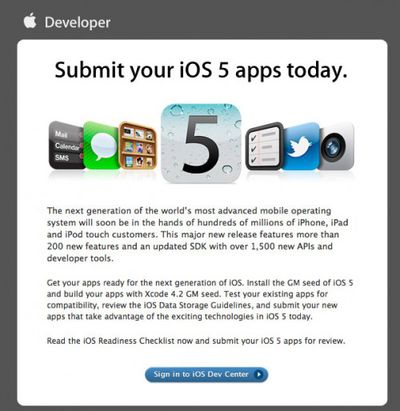 Today, Apple announced that iOS 5 would be released to the public on October 12th. In the meanwhile, they have seeded the final Golden Master copy to developers and are now asking developers to submit iOS 5 applications for inclusion in the App Store.
Apple has already been quietly approving many iOS 5 applications, but this gives developers a chance to test against the final shipping version of iOS 5. iOS 5 delivers over 200 new features to customers and will be available for a free download on October 12th. iOS 5 is compatible with the iPhone 4, iPhone 3GS, iPad 2, iPad, and the 3rd and 4th generation iPod touches.