Cheaper iPhone 4 'N90A' Photos Leak from Foxconn Factory
Gizmodo.com.br (via Gizmodo) claims to have images from Foxconn's Brazilian factory which shows the iPhone "N90A" model that will be introduced next week.
Now, as a reminder, the N90A is expected to be the low-end cheaper iPhone 4 model that is to be released alongside the iPhone 4S (N94) model. The current iPhone 4 carries a model number of N90, so changes are expected to be slight. So, these images don't actually show anything we don't already know, but do seem to represent a legitimate leak from a Foxconn factory producing Apple iPhones.
The [devices] are basically ready to be delivered, as shown in these photos obtained exclusively. The most interesting: they are a new model, it seems, will have less capacity and is cheaper.
Readers may recall that Foxconn has been working to expand iPad production into Brazil as well. Apparently, they have already been producing iPhones there.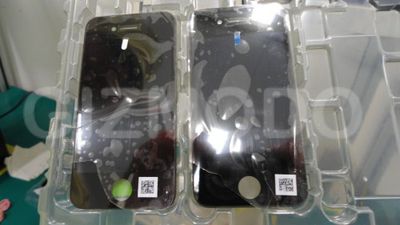 This second image shows the model number ("N90A") in the top left and shows it didn't pass inspection:


This model is supposed to represent the cheaper iPhone 4 (8 GB?) model that will replace the iPhone 3GS in the low end. The higher end iPhone is believed to be called the iPhone 4S and will carry an A5 processor.