Apple Removes iPod Click Wheel Games from iTunes
Earlier this week, a report claimed that Apple is preparing to discontinue the iPod classic and iPod shuffle, leaving only the iPod touch and iPod nano in its iPod lineup. Supporting the idea that the iPod classic may soon be coming to an end after ten years on the market is a new report from AppleInsider noting that Apple has removed access to the iPod Click Wheel Games section of the iTunes Store.
No new click wheel games had appeared in the iTunes Store since February 2009 as Apple apparently ended support for development of such games, but existing titles continued to be available through the store until recently. It is unclear, however, exactly when the listings disappeared from the iTunes Store, as reports dating back nearly two weeks indicated that the click wheel games had indeed gone missing.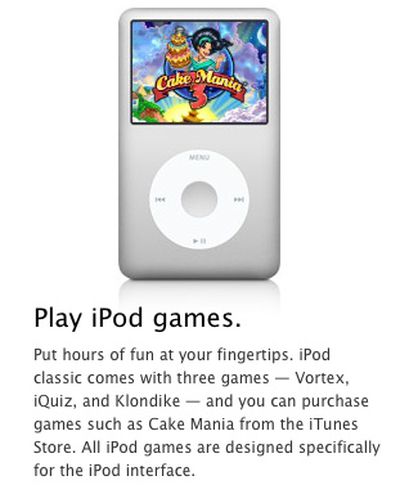 Despite the removal of access via iTunes, Apple still advertises the ability to purchase and play click wheel games on its iPod classic features page and its "iTunes A to Z" page.
iPod Click Wheel Games

You can watch a video preview of Click Wheel games on the iTunes Store before you buy. Once you purchase the games you want, simply sync them to your iPod classic, iPod nano (3rd, 4th, or 5th generation), or iPod (5th generation). Each game plays perfectly on your iPod using the intuitive Click Wheel as a controller.
Concern over the fate of the iPod classic arose when the model did not receive an update at last year's iPod media event, despite the fact that Steve Jobs touted that September's lineup as "all-new". Although the news wasn't revealed until months later, one customer did email Steve Jobs regarding the fate of the iPod classic after the September 2010 event, with Jobs responding that Apple had "no plans" to discontinue the model.
Additional hope of new life for the iPod classic came in February with Toshiba's launch of a 220 GB hard drive of the form factor used in the iPod classic, opening the door to a capacity increase over the existing 160 GB size. It now appears, however, that Apple may be winding down the high-capacity iPod model in favor of its popular iOS-based iPod touch and its new iCloud services that will allow users to store their music on Apple's servers and download it to their Internet-connected iOS devices as needed.