New Toshiba Hard Drives Could Boost iPod Classic to 220 GB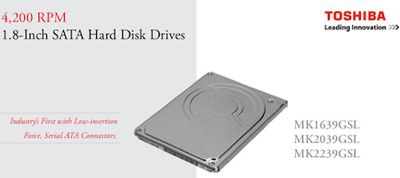 With all of the focus on Apple's flash-based iPod devices, it's easy to forget that the company still offers the iPod classic for users looking to carry around larger music libraries while on the go. Apple last
updated
the $249 iPod classic in September 2009, boosting the device's capacity from 120 GB to 160 GB, and some have wondered whether Apple will be discontinuing the device given the lack of updates since that time.
But as noted by Hardmac, a new line of 1.8-inch hard drives introduced by Toshiba earlier this week could breathe new life into the iPod classic and enable Apple to boost its capacity to 220 GB. Toshiba's new MKxx39GSL series (PDF) comes in 160 GB, 200 GB, and 220 GB capacities, all in a single-platter form factor matching the 5 mm drive thickness used in the current iPod classic.
It is unknown when Apple would make the shift to a 220 GB iPod classic if it indeed elects to adopt the new Toshiba drive. The company has in recent years shifted to a yearly iPod update cycle centered on September releases, meaning that the company would likely have to either wait another seven months to update the iPod classic along with the rest of the line or quietly release a mid-cycle capacity bump for only the iPod classic. With the iPod classic having missed the September 2010 update seen by the rest of the iPod line and the current model thus now being almost 18 months old, Apple could easily consider the mid-cycle upgrade if it is indeed planning on keeping the device alive.