Apple Thunderbolt Display Teardown Reveals Plethora of Hardware Inside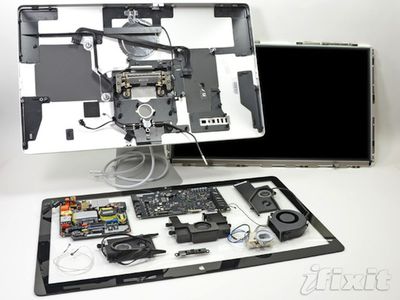 iFixit has managed to get its hands on one of Apple's new Thunderbolt displays, subjecting it to one of the firm's usual thorough teardowns. iFixit was pleasantly surprised at how easy it was to disassemble the new display, and upon opening found a considerable amount of hardware inside to support the display and the docking station functions included in the package.
Both sides of the logic board are packed with enough chips that it's hard to believe there's no computer inside this display. Standouts include:

- Pericom PI7C9X440SL PCIe-to-USB 2.0 host controller
- L129NB11 EFL, which looks to be the Thunderbolt port controller
- Analog Devices ADAV4601 audio processor
- NXP LPC2144 USB 2.0 microcontroller
- Delta LFE9249 10/100/1000 Base-T LAN filter
- SMSC USB2517-JZX USB 2.0 hub controller
- Maxim MAX9736B Mono/Stereo high-power Class D amplifier
- LSI L-FW643E-2 open host controller interface
- Broadcom BCM57761 Gigabit ethernet controller
- Supertex HV9982 3-channel switch-mode LED driver IC
The display also includes an integrated 49-watt, 2.1-speaker sound system with a small 1-inch subwoofer, as well as a 720p FaceTime camera and integrated microphone.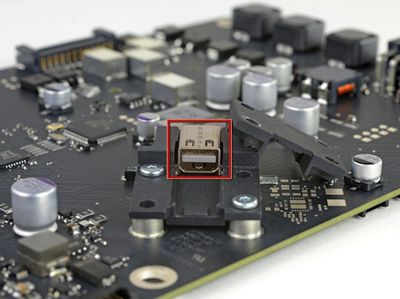 Thunderbolt port on logic board for accepting incoming connection
As for the display itself, iFixit discovered an LG LM270WQ1 panel inside, the same as that used in Apple's Late 2009 27-inch iMac. Interestingly, the Thunderbolt cable carrying signal to the display is connected to an actual Thunderbolt port mounted on the logic board rather than hardwiring the cable directly to the logic board. The Thunderbolt cable is secured to the logic board port with a cover screwed down on top of the connector.
We chatted with iFixit's Miro Djuric about the curious observation that Mini DisplayPort displays can not be daisy chained off of an Apple Thunderbolt Display unless another Thunderbolt device is placed between the two displays in the chain, but the teardown unfortunately does not reveal the source of this limitation.
Some speculation has centered around the possibility that a single Thunderbolt controller chip may not have the ability to output the display signal required for both the included display panel and a connected Mini DisplayPort display panel. A separate Thunderbolt chip, such as one found in an intermediary peripheral device, may be required to generate the signal for the Mini DisplayPort panel at the end of the chain.
Update: AnandTech last week provided a good technical explanation of the daisy chaining limitations.
If you connect a Mac to the Thunderbolt Display what is sent is a Thunderbolt signal. DisplayPort is broken off and sent to the display but there's no way to propagate an additional DisplayPort signal to any other non-TB displays in the chain. The output on the Thunderbolt Display is literally a Thunderbolt output, it can't double as DisplayPort.

However, if you connect another Thunderbolt device that uses Light Ridge you can split any additional DisplayPort signals out of the chain. In other words, if you connect the Thunderbolt Display to a Promise Pegasus you can then chain on another DP panel.
(Thanks, @foresmac)