Sprint to Cap Mobile Hotspot Data to 5GB Ahead of iPhone Launch
SprintFeed reports that Sprint will be limiting its mobile hotspot plans to 5GB of data as of October 2nd -- only days ahead of the rumored iPhone 4S/5 launch.
Bloomberg had reported that Sprint would finally be getting the next generation iPhone when it launches in October. Sprint is expected to provide unlimited data plans for the new iPhone and will be the only U.S. provider to offer such a plan. Both AT&T and Verizon originally offered the iPhone with unlimited mobile data, but later transitioned to tiered plans of limited data.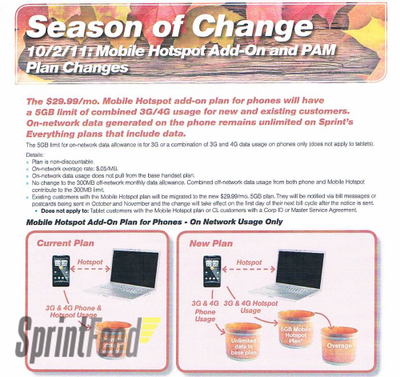 Sprint will still offer "unlimited" for those using data on-device, but for those who purchase the additional $29.99/mo hotspot plans will be limited to 5GB of data a month. Mobile Hotspot plans allow users to tether their iPhone to their laptops and share their mobile internet connection. This is presumably to prevent individuals from consuming large amounts of data through their laptops. Sprint's on-device mobile plan appears as if it will remain unlimited for the time being.