Apple Tops U.S. PC Customer Satisfaction Survey for Eighth Consecutive Time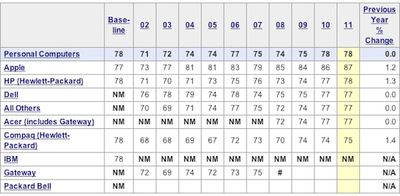 The American Customer Satisfaction Index (ASCI) today released its latest results on U.S. consumer satisfaction in the personal computer industry, with Apple topping the charts for the eighth consecutive year and setting a new company high for ratings.
Apple's record of customer satisfaction preeminence in the personal computer industry continues unabated in 2011, as the company adds another point to its already exceptional score. At 87 (+1%), Apple outdistances its nearest competitor by 9 points.

"In the eight years that Apple has led the PC industry in customer satisfaction, its stock price has increased by 2,300%," remarks Claes Fornell, founder of the ACSI and author of The Satisfied Customer: Winners and Losers in the Battle for Buyer Preference. "Apple's winning combination of innovation and product diversification—including spinning off technologies into entirely new directions—has kept the company consistently at the leading edge."
Apple's score of 87 rose by one point over last year's score of 86 that had been its previous record high in the survey. This marks the third straight year that Apple has held a nine-point lead over its nearest competitor in the industry.