Apple 27" Thunderbolt Displays Shipping to Stores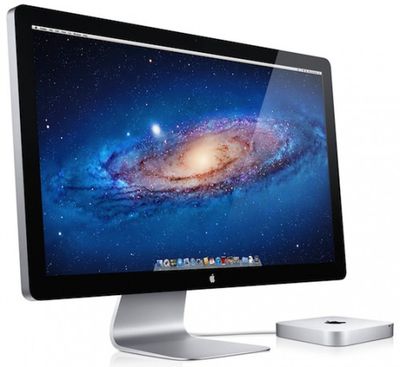 MacRumors
has learned that Apple is beginning to ship the new 27" Thunderbolt Display to stores and resellers this week. This means that customers should be able to see and buy the devices very soon. We haven't yet heard any news about early customer orders shipping, but expect those to follow closely.
The new 27" Display adds Thunderbolt compatibility, allowing the displays to act as a docking station using a single Thunderbolt cable. The new display includes a built-in FaceTime HD camera, 2.1 speaker system, three USB ports, one Firewire 800 port, one Gigabit Ethernet port, and a second Thunderbolt port to enable daisy chaining.

The new display also allows the ability to run two displays off of a single Thunderbolt port on Macs offering enough graphics horsepower to support the pixel load.
Apple introduced the new display back in July. It is presently available for pre-order for $999.