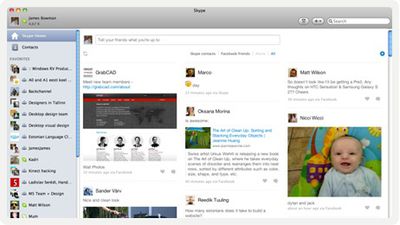 Skype today announced the release of a new Skype 5.4 for Mac beta, offering integration with Facebook to allow users to chat with Facebook friends and view and interact with their Facebook news feeds right in the Skype application.
Just like in our Windows client, you will now be able to IM and connect with your Facebook friends without leaving Skype. You will also be able to read and update your News Feed, as well as comment and 'Like' your Facebook friends' posts - all within Skype for Mac. To connect to Facebook, simply sign into Skype, click on the Connect to Facebook tab and enter your Facebook sign in details.
Skype 5.4 for Mac is also introducing ads to the platform for the first time, although Skype Premium subscribers and those with Skype Credit on their accounts will not be subjected to the new display ads.