Intel Details Thunderbolt Spec: New Chips Coming Next Year, But What About Fiber Optic Cables?
This is my next reports on an Intel presentation at IDF yesterday detailing specifications for the Thunderbolt connectivity standard, demonstrating the company's commitment to the platform. The presentation reveals a long list of details on the standard, including the use of a Mini DisplayPort-compatible plug as found on Apple's Thunderbolt-enabled Mac models, officially disapproving of Sony's plans to utilize USB as the connector for Thunderbolt.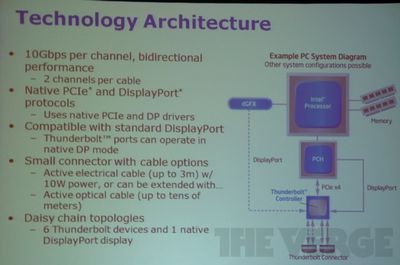 The report notes that Thunderbolt cable lengths are currently limited to three meters due to their reliance on electrical connections. Thunderbolt, which began under the codename "Light Peak", was originally intended to offer fiber optic cables, but Intel is continuing to work on that technology to bring it to consumers. The company is apparently planning to make fiber optic Thunderbolt cables available beginning next year, but they will run at the same speeds as with the current copper wire cables.
What about active optical Thunderbolt cables? Intel says that they will be released "sometime next year" and enable lengths of "tens of meters." Unfortunately, the first round of active optical cables will operate at the exact same speed as current cables, 10Gbps. Intel says that is necessary because it wants those cables to conform to the current spec, but that faster speeds are certainly possible into the further future. All cables have two channels and can work as a Displayport cable (but not, obviously, vice versa).
IDG News takes an opposing view based on an interview with Intel executive Dadi Perlmutter, seeing optical cables as still being years away from being competitive with the copper cables.
The trend of using copper wires could continue, and it could be many years before fiber optics are used in Thunderbolt.

"It's going to be way out," Perlmutter said. "At the end of the day it's all about how much speed people need versus how much they would be willing to pay."

The cost of implementing fiber optics is significantly higher than copper, and copper can transfer data at adequate speeds at this stage, Perlmutter said. There is still more room for data transfers to jump on copper.

"Copper will continue to improve, which happens. There have been many technologies that had been predicted dead 20 years ago that are still making good progress. We'll see," Perlmutter said.
Meanwhile, Intel continues to advance the technology used in its controller chips for Thunderbolt, planning for the successors to its four-channel Light Ridge chip used in the MacBook Pro, Mac mini, and iMac and its scaled-down two-channel Eagle Ridge chip used in the MacBook Air. According to AnandTech, Intel's 2012 Thunderbolt chip is known as Cactus Ridge, and will also be offered in four-channel and two-channel versions. No details on pricing or other improvements have yet been disclosed, but the Intel is said to be planning to offer Cactus Ridge in packages measuring in as 12 mm by 12 mm.