New MacBook Air Using Scaled-Down Thunderbolt Chip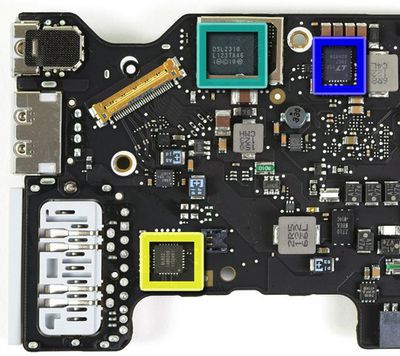 Portion of MacBook Air motherboard with Eagle Ridge chip outlined in teal (Source: iFixit)
AnandTech takes a look
at the Thunderbolt controller used by Apple in the new MacBook Air, finding that the company has opted to use a scaled-down "Eagle Ridge" controller chip from Intel instead of the "Light Ridge" chip found in larger Thunderbolt-enabled machines.
[Light Ridge] features four Thunderbolt channels (4 x 10Gbps bidirectional = 80Gbps aggregate bandwidth) and up to two DisplayPort outputs. It's used in the 2011 iMac, MacBook Pro and Mac mini. ...

Eagle Ridge is available in two form factors (normal and SFF [small form factor]) and is effectively half of a Light Ridge chip. That means you only get two Thunderbolt channels and one DP output. Apple used the small form factor version of Eagle Ridge in its new MacBook Air to cut cost and save on motherboard real estate.
With Eagle Ridge only supporting a single DisplayPort output, MacBook Air users are only able to drive a single external display via the Thunderbolt port, although the machine's integrated Intel HD Graphics 3000 would also preclude the use of two external monitors on the MacBook Air as it does on the 13-inch MacBook Pro.
Thunderbolt adoption has thus far been limited to high-end devices in part due to high costs associated with inclusion of the technology. Use of the scaled-down Eagle Ridge controller could help push Thunderbolt into lower-end products, presuming that the smaller chip carries some cost savings for manufacturers.