Light Peak Ready for Implementation on Copper, Not Yet on Fiber Optic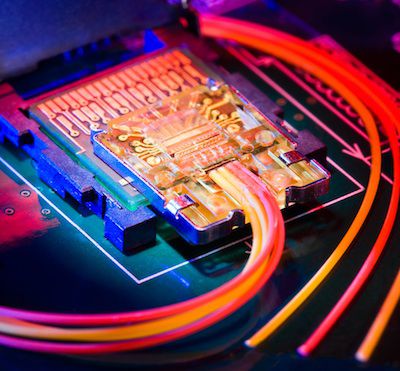 We've been
following
Intel's work on its "Light Peak" computer connection standard from some time now, watching as the company has been demonstrating connectivity promising speeds of 10 Gbps over fiber optic cables, with the possibility of extending the technology to 100 Gbps transfer speeds in the future. Rumors have pegged Apple as being likely to be at the forefront of Light Peak adoption, and several Intel demonstrations using Mac hardware have fueled interest in the technology on the part of Mac users.
As reported by IDG News Service, Intel announced at CES last Friday that Light Peak is in fact ready for implementation, with the major caveat being that the standard is initially being deployed over copper wiring instead of fiber optics.
"The copper came out very good, surprisingly better than what we thought," Perlmutter said. "Optical is always a new technology which is more expensive," he added.
Perlmutter declined to comment on when devices using Light Peak would reach store shelves, saying shipment depended on device makers. Intel has in the past said that devices with Light Peak technology would start shipping in late 2010 or early this year.
There has been some question about whether sticking with copper over fiber optics for the initial implementation will result in a speed reduction, but PCMag reports that Intel has been able to hit 10 Gbps over copper, buying it time to continue to refine the fiber optic implementations as it looks forward to 100 Gbps.
Although data transmission speeds will reach higher levels with fiber-optic cabling - including a proposed scale of up to 100 gigabits per second within a decade - the reality on the ground is that optical cabling is quite expensive compared to copper. Intel tipsters have indicated that the company will still be able to hit its initial target of 10 gigabits per second using copper cabling which, itself, will be more than adequate for the typical short connection lengths needed by computer consumers.
The initial 10 Gbps implementation of Light Peak offers over twice the theoretical speed of USB 3.0, which itself is still in the early stages of rolling out. The two standards are not necessarily incompatible, however, as USB and other protocols could run on top of Light Peak cabling, offering increased speed and flexibility while maintaining compatibility.