Apple Preps for Thunderbolt Display Release with MacBook Air EFI Firmware Update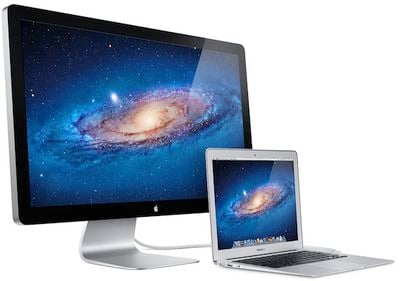 Apple today released MacBook Air EFI Firmware Update 2.1, a 3.99 MB update addressing a pair of issues on the company's latest MacBook Air models. The fixes include enhanced stability for Lion Recovery over the Internet and improvements for Thunderbolt-related issues including compatibility with Apple's forthcoming Apple Thunderbolt Display.
This update includes fixes that enhance the stability of Lion Recovery from an Internet connection, and resolve issues with Apple Thunderbolt Display compatibility and Thunderbolt Target Disk Mode performance on MacBook Air (mid 2011) models.

For more information about Lion Recovery, please visit http://www.apple.com/macosx/recovery/.

The MacBook Air EFI Update will update the EFI firmware on your notebook computer. Your computer's power cord must be connected and plugged into a working power source. When your MacBookAir restarts, a gray screen will appear with a status bar to indicate the progress of the update. It will take several minutes for the update to complete. Do not disturb or shut off the power on your MacBookAir during this update.
We noted last week that the new Apple Thunderbolt Display was beginning to ship to stores in anticipation of a launch in the near future, and today's release to ensure compatibility with the new MacBook Air offers further evidence that a launch for the display is near.
Apple announced the display back in July with a shipping date of "within 60 days", a timeframe that is rapidly approaching. Apple's order page for the $999 display is showing a 2-3 week estimate for new orders, but earlier pre-orders will likely ship sooner than that. We have yet to hear, however, of any pre-orders being prepared for shipment.