Apple-Samsung Dispute: Galaxy Tab 7.7 Pulled in Germany, iPad Sales Disclosure in Australia?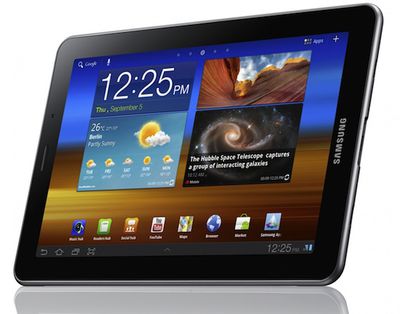 Samsung Galaxy Tab 7.7
The wide-ranging intellectual property battle between Apple and Samsung has continued in recent days, with one of the more notable events taking place in Germany, where Apple won a
new preliminary injunction
against Samsung requiring the company to remove its new Galaxy Tab 7.7 from the expo floor at the IFA show in Berlin as part of a broader ban against sale and promotion of the device.
Samsung Electronics Co., the world's second-biggest handset maker, unveiled the Galaxy Tab 7.7 for the first time at the annual trade fair, known as the IFA, which kicked off on Friday for a six-day run in Berlin.

But Samsung pulled the tablet computer out of the show after a Dusseldorf court accepted on Friday Apple's request to ban sales and marketing of the product in Germany, the company said.
Meanwhile, Bloomberg is reporting that Apple is being pressured to reveal specific iPad sales numbers in the United States and United Kingdom as part of its case against Samsung in Australia. The judge in that case is requesting that sales data from markets where Samsung has launched its Galaxy Tab products in order to ascertain whether Apple's sales have been hampered by the Galaxy Tab's introduction.
Apple's claim that the Samsung tablet's release in Australia will hurt iPad sales may carry little weight if it doesn't provide the numbers, Federal Court Justice Annabelle Bennett said in Sydney Federal Court today.

"Unless Apple puts on evidence showing the impact in the U.S. or U.K., I can't draw any positive assumptions," Bennett said.
Despite a request by Samsung, Bennett is not requiring Apple to disclose such figures, but failure to do so would seem to substantially harm Apple's case.
Specific disclosure of iPad and iPad 2 sales in the United States and United Kingdom would be an interesting look into Apple's performance, as the company typically provides little detail on its iOS device sales, only reporting the total number of units sold each quarter on a worldwide basis. Such numbers are considered key competitive information, so much so that Samsung has decided to stop reporting mobile phone sales entirely.