Adobe's Digital Publishing Suite to Support Newsstand for iOS 5
Adobe today announced that its Digital Publishing Suite will incorporate support for Apple's forthcoming Newsstand feature for iOS 5. Newsstand is intended to serve as the organization hub for digital subscriptions in iOS 5, offering users easy access to the latest content downloaded in the background.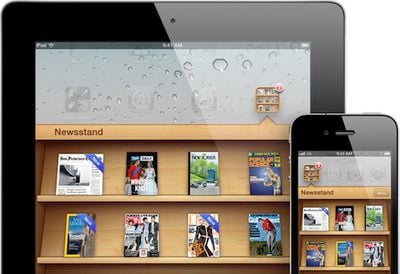 Adobe's software will allow publishers to create digital editions of their magazine and newspaper applications that automatically deliver content to the Newsstand application on iOS devices. The compatibility will launch "soon after" Apple debuts iOS 5, which is expected sometime this fall.
Publishers will be able to use Digital Publishing Suite to create files that are detected by Newsstand and automatically downloaded to the Newsstand shelf, eliminating long download times which can present a barrier to reading content on iPad devices. Applications built with Adobe Digital Publishing Suite and enabled for Newsstand will allow publishers to better merchandise their content with support for Newsstand push notifications and icon covers displayed on the Newsstand shelf, reflecting the latest issue of the magazine or newspaper.
A number of publishers including Condé Nast and Reader's Digest have utilized Adobe's publishing tools to bring their content to the iPad, making Newsstand compatibility for Adobe's Digital Publishing Suite an important step toward making Newsstand the one-stop place for users to manage their digital subscription content on their iOS devices.