Apple Opening New Stores in Canada, Germany, and Italy This Week
Apple is continuing its major push of retail store openings, with three more coming this week in three different countries. With these grand openings, Apple will have opened 14 retail stores over the space of four weeks as it moves toward its goal of opening a total of 30 stores during the July–September quarter.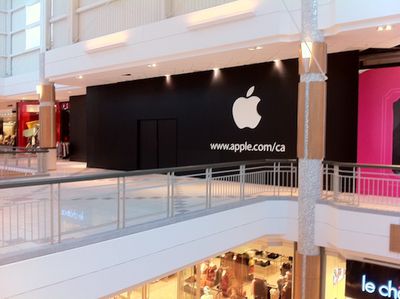 Apple's Mapleview Centre store in Burlington, Ontario (Source: iPhoneinCanada.ca)
-
Mapleview Centre
(Burlington, Ontario, Canada): Apple's 21st Canadian store, Mapleview Centre is located in Burlington, Ontario west of Toronto along the Lake Ontario shoreline. The store will be the eighth in or near the "Golden Horseshoe" region of Ontario wrapping around the western end of Lake Ontario.
- City-Galerie (Augsburg, Germany): City-Galerie will be Apple's sixth German store and the second in Bavaria in the southeast of the country. The new store will join the existing Munich store just under 50 miles away.
- Campania (Caserta, Italy): Apple's seventh retail store in Italy, the Campania store is located in the province of Caserta and is the first to open south of Rome. It is located approximately 25 km north of Naples in the Centro Commerciale Campania along the main Autostrada A1 motorway that serves many of Italy's major cities between Milan in the north and Naples in the south.