AT&T Eliminating $10 Text Messaging Plan for New Customers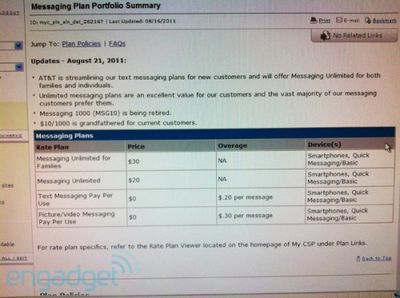 Late yesterday, Engadget reported that AT&T will be eliminating its $10/month texting plan offering 1000 text messages, leaving the carrier's unlimited texting plan for $20/month as the only option for new customers. Within hours, an AT&T spokesperson confirmed that the change is coming on August 21st and that existing customers can keep their current texting plans, even when upgrading devices.
Starting August 21, we're streamlining our text messaging plans for new customers and will offer an unlimited plan for individuals for $20 per month and an unlimited plan for families of up to five lines for $30 per month. The vast majority of our messaging customers prefer unlimited plans and with text messaging growth stronger than ever, that number continues to climb among new customers. Existing customers don't have to change any messaging plan they have today, even when changing handsets."
Just this past January, AT&T dropped its texting plan options from three to two by eliminating its $5/200 text and $15/1500 text plans and replacing them with the $10 plan offering 1000 texts. But just eight months later, the company is now doing away with that option as well and pushing new customers into unlimited text messaging plans.