AT&T Simplifying Texting Plans, Enlisting Best Buy in Battle Against Verizon iPhone
In a pair of reports today, Gear Live shares some information reportedly leaked from Best Buy's internal systems showing how the retailer and AT&T are gearing up to downplay the impact of the Verizon iPhone set for launch next month.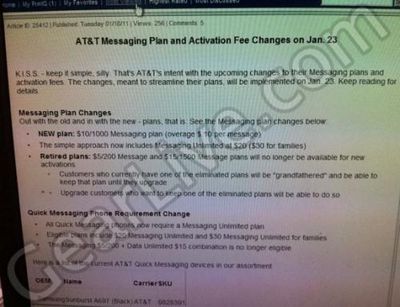 The
first report
indicates that AT&T will be simplifying its text messaging plans as of January 23rd, doing away with the existing plans offering 200 messages per month for $5 or 1500 messages per month for $15 and replacing them with a single plan offering 1000 messages per month for $10. The unlimited messaging plan priced at $20 per month will remain.
The document indicates that users currently on either of the two messaging plans being discontinued with be grandfathered in and be able to stay with their current plans, even through device upgrades.
According to the second report, Best Buy's training documents for its retail staff are offering arguments (apparently reprinted from a BGR report from last week) noting that with Verizon having spent significant time at CES 2011 earlier this month touting its 4G network and forthcoming devices, the Verizon iPhone will already be outdated at its launch.
Verizon's entire presence at CES last week was focused on one thing and one thing alone: 4G. Its LTE network is now live in 38 markets and a flurry of 4G phones will launch in the coming months. But their iPhone... the smartphone millions of Verizon Wireless subscribers have been dying for... is a 3G device.
The presumption is that Best Buy will not be carrying the Verizon iPhone for some time after the device's launch, making it advantageous for the retailer to convince customers to purchase alternative phones available in its stores. But at the same time, the company's arguments also curiously seem to argue against the AT&T iPhone, which is also a 3G device and available from Best Buy.
We've similarly heard from AT&T employees, even those who are not involved in customer-facing positions, who have received "talking points" from the company about why the iPhone on AT&T is better than the Verizon iPhone. Among the key talking points being highlighted by AT&T: network speed (memo claims 35% faster than Verizon on average nationally), ability to talk and surf simultaneously (memo claims one-third of customers use it daily), global network coverage, and Wi-Fi hotspots.
The memo goes on to note that AT&T is proud to have partnered with Apple over the last three and a half years on a ground-breaking device and that it continues to be on "great terms" with Apple. Finally, AT&T points to the fact that two-thirds of its iPhone users were already AT&T customers to begin with, and 80% of iPhone subscribers are on family or business plans, which make it more difficult to switch carriers.