Photo of Steve Jobs' Biography Cover, Back, and Some Details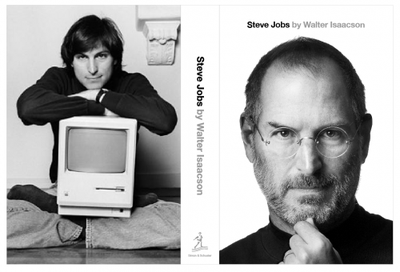 Fortune's Philip Elmer-DeWitt contacted Walter Isaacson and got some more details on Steve Jobs' biography that is due on November 21st. The above cover is described by Isaacson:
"The cover," writes Isaacson in private e-mail, "is the Albert Watson portrait taken for Fortune in 2009. The back is a Norman Seeff portrait of him in the lotus position holding the original Macintosh, which ran in Rolling Stone in January 1984. The title font is Helvetica. It will look as you see it, with no words on the back cover."
Isaacson also clarified to Elmer-DeWitt the moving forward of the publication date was not due to any health concerns or decline. The book was mostly completed in June, and is now "all done and edited".
The publisher describes the biography as being based on more than forty interviews with Jobs conducted over two years. Meanwhile, hundreds of interviews were also conducted with family members, friends, adversaries, competitors, and colleagues.