The New York Post reports that Apple and the Metropolitan Transportation Authority (MTA) have signed a deal to bring a 23,000 square-foot Apple retail store to Manhattan's historic Grand Central Terminal. The initial ten-year deal will reportedly see Apple paying $800,000 per year in rent, and potential extensions after the ten-year period would see the annual rent increase to over $1 million.
Tech giant Apple has inked a 10-year deal with the MTA to open its largest store in the world in Grand Central Terminal.

The 23,000-square-foot store will take up Grand Central's north and northeast balconies, displacing Charlie Palmer's Metrazur restaurant, according to MTA documents.

Apple will initially pay rent of $800,000 a year, nearly half a million more than Metrazur paid.
The MTA's financial committee is said to be set to add the final seal of approval to the deal today.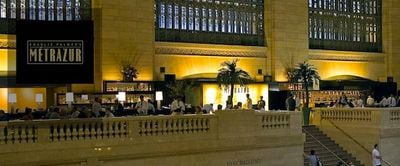 The report's claim regarding the store being Apple's largest in the world is a bit fuzzy, as Apple's Regent Street store in London is said to check in at approximately 25,000 square feet. It is a bit difficult to make strict comparisons, however, as different reports use differing standards for reporting square footage. Some reports may refer to gross square footage while others may use the smaller assignable square footage, while some reports may count only publicly-accessible retail floor space in contrast to others that may include back-of-house support space or even regional corporate offices occasionally located on-site at flagship retail store locations.
Update: In an article on the MTA's board meeting today regarding the deal, The Wall Street Journal includes a pair of renderings showing what visitors can expect, with Apple's traditional light wood tables and black stools appearing under the soaring ceiling and stone work of Grand Central Terminal. Apple is paying current tenant Metrazur $5 million to vacate its spot eight years before its lease was to run out, and the company will begin construction immediately with a goal of opening the new store four months from now.