Wal-Mart Debuts VUDU Movie Service on iPad as Web App, Shutting Down MP3 Store
Wal-Mart today announced the debut of its VUDU video rental and purchase service for the iPad, avoiding Apple's required 30% cut of revenue for app-based content purchases by launching as a web app.
Beginning today, iPad users can go to VUDU.com and browse through VUDU's entertainment content library, which includes more than 20,000 blockbusters, Hollywood classics, independent films and TV episodes, then rent or purchase and watch them instantly. For one touch access to VUDU, customers can add a VUDU icon to their iPad desktops by clicking the "Add to Home Screen" button when on VUDU.com.
VUDU's service is limited to standard definition and omits some titles such as those from Disney, but has proven to be a popular option for those looking for on-demand streaming, particularly for new releases not available through Netflix.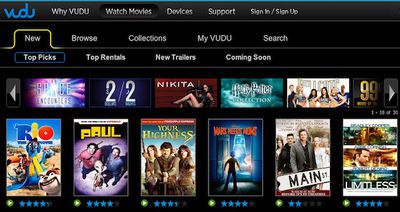 On a separate note, Digital Music News reports that Wal-Mart has also announced to its music partners that it will be shutting down its MP3 download store later this month. From the letter sent to Wal-Mart's distribution and licensing partners:
After eight years in business, the Walmart Music Downloads Store located at mp3.walmart.com will close on August 28, 2011. All content in the Store will be disabled and no longer available for download from the store.

"The sale of physical record music products on Walmart.com as well as in Walmart US retail stores will remain unaffected. Walmart Soundcheck (soundcheck.walmart.com) will remain operational as a live streaming site without any download options."
Wal-Mart notes that it will continue to provide support to customers who purchased tracks through the download store, but content will no longer be available for sale. The download store has been in existence since late 2003, but has had little success eating into the iTunes Store's dominance in the digital music download market.