Latest AirPort Extremes and Time Capsules Offer Improved Wi-Fi Range and Performance
The new Airport Extreme and Time Capsule released by Apple in June didn't have an advertised upgrade, outside of a capacity bump on the Time Capsule. However, Brian Klug at AnandTech has written an extraordinarily detailed review of the new devices and found they are notably improved from the prior generation.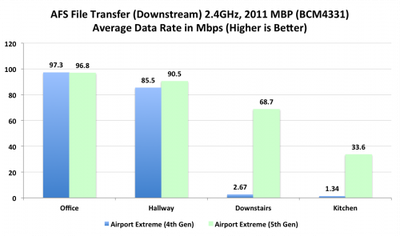 Klug notes that the new devices are virtually indistinguishable from their older counterparts, but in detailed testing, they found increased throughput and range.

At the end of the day, the new Airport Extreme dramatically improves throughput in the best case and in a few regions where signal was previously unusable. In the worst case (location 4), performance improves from being essentially unusable to totally fine, and in the case of the 2010MBP goes from not being able to connect at all to pushing 23 Mbps.

[...]

The main improvements with AFS (real-world file transfer) happen out at the extremes where previously signal was unusable on 2.4GHz, and likewise on 5GHz. That really tells the story of the (sometimes dramatic) difference that the higher power WLAN solution in the 5th generation makes over the 4th generation.
The highest speeds are attained with the 2011 generation MacBook Pro which includes an upgraded "three spatial stream compliant WLAN stack", which basically is next-generation wireless software and hardware.


The new Airport Extreme includes a slightly different chipset as well, moving from one sourced from Marvell to one from Broadcom:

The result of the move from Marvell to Broadcom is twofold. First, performance and range is definitely better thanks to more transmit power and the improved sensitivity afforded by newer generation chipsets. Second, the combination of lots of Broadcom in Apple's hardware lineup (from the iPhone, iPad, and MacBooks, to iMac and Mac Mini) with Broadcom in the access point likely allows for the use of frame bursting or some other packet aggregation technique that speeds things up in some scenarios. It's another example of how having that complete hardware control can in fact result in some benefit—in this case, faster WiFi.
Klug finishes the review by noting the Airport Extreme is reasonably priced compared to the competition and he prefers it due to it "actually work[ing] without locking up, becoming unstable periodically, dropping the session from overheating when being pushed to 100% for hours, or requiring a daily reboot."