Apple Went to Great Lengths to Obscure its Speech Recognition Interface in iOS 5
Apple's latest iOS 5 Beta 5 contains the interface elements for their rumored upcoming Speech Recognition features. The screenshot below (via 9to5Mac) shows a microphone button found on the standard text keyboard in iOS. Pressing on the microphone button will bring up a microphone speech screen where you presumably start speaking.
Apple has long been rumored to be working on an intelligent assistant speech interface to iOS based on their Siri acquisition. This latest screenshot shows how the speech recognition can be called up from any standard text entry field.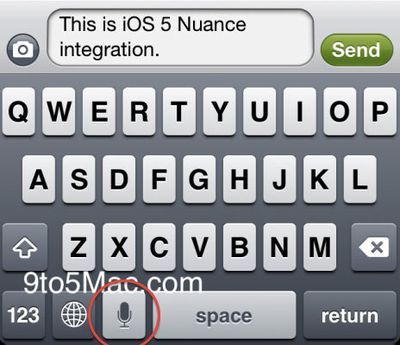 We've confirmed that the above interface does exist (in dormant form) in the latest iOS 5 beta 5. Once activated, however, the speech interface isn't yet functional. Apple hasn't included all the pieces required to enable the speech recognition. Apple has been said to be in negotiations with Nuance to power the upcoming speech recognition technology in iOS 5.
But perhaps more interesting is that that Apple seems to have gone out of its way to keep it hidden from prying eyes. Apple's certainly aware that individuals comb through every new developer beta looking for hints of upcoming features. In this instance, they've obfuscated the names of various pieces of the interface. For example, calling the microphone button "forward delete key" and the keyboard pretends to be a "Dvorak" keyboard. The move is a reflection of the increased scrutiny of Apple's moves but also the relative significance of this feature that Apple has gone out of its way to hide.