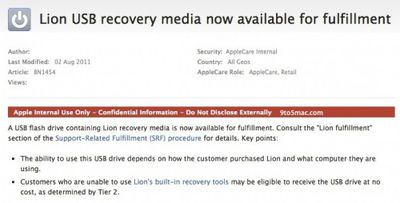 Lion USB flash drives are available for customers who are unable to use Lion's built-in recovery tools, according to an internal AppleCare document obtained by 9to5Mac. The document notes that "the ability to use this USB drive depends on how the customer purchased Lion and what computer they are using." The document doesn't go into any further detail, but it could be that new Macs with the Internet Recovery feature don't require the USB drive.
Further, these drives aren't necessarily the same as the thumb drives Apple plans to put on sale sometime this month for $69. Those USB drives aren't available yet.
However, for customers who are having difficulty with their Lion installations, a visit to an Apple Store or a call to 800-APL-CARE may be helpful.
It is also possible to make a bootable Lion installer on a DVD or on a USB flash drive using a small AppleScript application to automate the process. Some recommend the flash drive instead of the DVD, as it reportedly is much faster to install the OS in that manner.