During the U.S. overnight hours, a number of readers noted that Apple's online store had been taken down for updating, and with Friday not being a typical day for new products and nothing rumored to be launching, the downtime was assumed to be for store maintenance. Such maintenance windows are not infrequent, and thus there was relatively little anticipation for the store's return beyond simply noting that it was offline.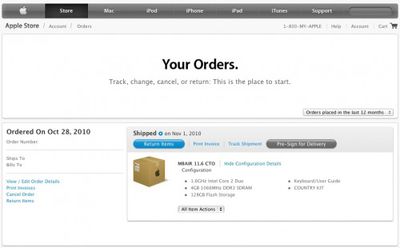 The occasional maintenance periods frequently result in no changes visible to end users, but AppleInsider notes that the latest downtime appears to have focused on updating Apple's online order status pages for at least the North American markets. Those pages had long featured an outdated look, and the company has now brought them in line with the modern look found throughout much of the rest of its site.
An internal memo regarding the matter distributed on Friday stated that the improvements were designed to "enhance the overall look, feel, and functionality for a better customer experience."

Gone are the archaic blue and white order status pages that identified purchased items by part numbers and a string of abridged specifications more commonly found on point of sale (POS) systems operated by staffers rather one of the world's most popular online stores for consumers.

In their place, Apple has adorned the new order status pages with more of a Web 2.0 feel, including product images, graphical buttons for returning and pre-signing for shipments, and a drop-down menu tied to each item with quick-links for returning orders or re-printing invoices.
Apple's online order status pages went down for several days back in May leading up to minor makeovers of the company's physical stores and an updated iOS application. That downtime did not, however, result in visible changes to order status pages, and today's changes suggest that the earlier downtime may have involved behind-the-scenes preparations for the refreshed look.