Apple Leases Major New Office Campus in Cupertino to Support Continued Growth
While Apple's plans for a stunning new corporate campus in Cupertino have received a significant amount of attention, that facility won't be ready to open until at least 2015, and Apple certainly hasn't stopped growing to wait for the new campus to come on line.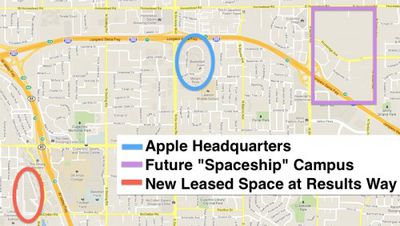 The San Jose Mercury News is now reporting that Apple has agreed to lease a nine-building office campus in Cupertino capable of housing up to 1,300 employees.
The lease deal in the old Measurex campus, now known as Results Way Corporate Center, allows Apple to rent 373,000 square feet. City officials and industry experts with direct knowledge of the transaction confirmed the rental deal.

"This is all good news for the city," said Kelly Kline, Cupertino's city economic development manager. "Apple is the premier corporation in Cupertino."
Real estate brokers note that Apple's move puts a further squeeze on the Cupertino and Mountain View markets that are nearly out of potential space for future office space needs, as Google, Facebook and others have also snatched up significant amounts of space. The dearth of additional available space leads to questions about where else Apple might be able to expand if even more space is required before it can open its new 12,000-employee facility on an old HP campus in Cupertino just a short distance from Apple's current headquarters campus.