Apple Updates MacBook Air Line With Sandy Bridge, Thunderbolt and Backlit Keyboards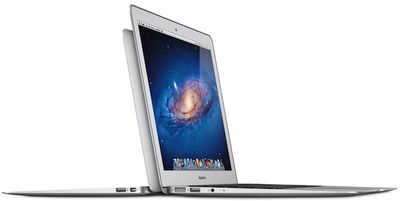 Alongside today's launch of OS X Lion, Apple has also released updated MacBook Air models covering both the 11.6-inch and 13.3-inch sizes. As had been previously rumored, the new models are based on Intel's Sandy Bridge platform, sport Thunderbolt connectivity for peripherals, and see the return of backlit keyboards. The new MacBook Airs are offered in the following configurations:
11.6-inch
- 1.6 GHz, 64 GB SSD, 2 GB RAM: $999
- 1.6 GHz, 128 GB SSD, 4 GB RAM: $1199
13.3-inch
- 1.7 GHz, 128 GB SSD, 4 GB RAM: $1299
- 1.7 GHz, 256 GB SSD, 4 GB RAM: $1599
Build-to-order customers can also choose to upgrade to a 1.8 GHz processor and additional solid-state storage.
With up to twice the performance of the previous generation, flash storage for instant-on responsiveness and a compact design so portable you can take it everywhere,* the MacBook Air starts at $999 (US) and is available for order today and in stores tomorrow.

"Portable, affordable and powerful, MacBook Air is the ultimate everyday notebook," said Philip Schiller, Apple's senior vice president of Worldwide Product Marketing. "MacBook Air features our most advanced technology and is an ideal match for Lion, especially with its new Multi-Touch gestures, full-screen apps, Mission Control and Mac App Store."
The new MacBook Air models are available for order today and will be available in stores tomorrow. All models ship with OS X Lion preinstalled.