Microsoft Planning 75 New Retail Stores to Take on Apple
While much was made of Microsoft's efforts to reenter the retail store market by going head-to-head with Apple, things have moved rather slowly for the PC software company, which has opened only eleven stores scattered around the United States over the past two years.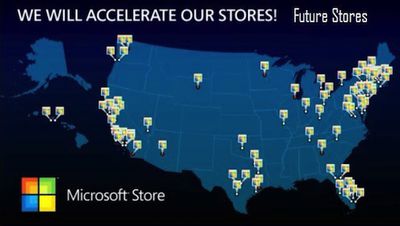 But Neowin reports that Microsoft today unveiled an acceleration of those plans at its Worldwide Partner Conference, targeting 75 new stores for opening over the next two to three years. The initiative will also include some international stores, mirroring Apple's own recent emphasis on international locations.
Apple has approximately 350 retail store locations and continues to open new stores on a regular basis, meaning that Apple will remain significantly in the lead in terms of total stores by the end of this push from Microsoft, but it is clear that Microsoft is making a significant commitment to the initiative after only dabbling in it for the past two years.
Microsoft has mimicked Apple's retail strategy of trying to create warm and inviting spaces prominently featuring wood surfaces throughout in order to draw in customers to interact with the products on display, while also including an "Answer Desk" very similar to Apple's Genius Bars for support purposes. The company has even worked to strategically place its locations in close proximity to Apple's stores in an attempt to target many of the same customers. And while Microsoft has to rely on hardware from its partners in order to show off its PC offerings, the company's new retail push seems indicate that it is intent on establishing a retail rivalry with Apple.