Microsoft Signs Leases to Open Retail Stores in Arizona and California
According to CNET, Microsoft has confirmed that it has signed leases for upcoming retail stores in Scottsdale, Arizona and Mission Viejo, California. The stores are among the first in Microsoft's retail store initiative that is planned to directly compete with Apple's retail stores in a number of locations beginning later this year.
The Orange County, Calif., store is in a mall that already houses an Apple retail store. Microsoft Chief Operating Officer Kevin Turner said at this month's Worldwide Partner Conference that some of the locations would be right near Apple stores.
The first stores' fall opening comes at an opportune time for Microsoft, which is launching Windows 7 on October 22.
According to a presentation from Microsoft's retail consultant leaked last week, concepts for the stores include an "Answer Bar" or "Guru Bar" similar to Apple's Genius Bar, large digital media walls presenting dynamic information and images, and themed "stage areas" for various Microsoft technologies utilizing "Surface" multi-touch tables for interactive experiences.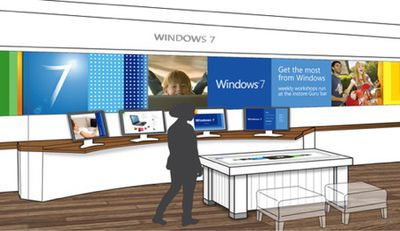 Microsoft has
reportedly hired
former Apple real estate chief George Blankenship as a consultant to assist the company with securing locations for its new retail stores.