Apple Increasing iPhone Retail Staffing From August Through October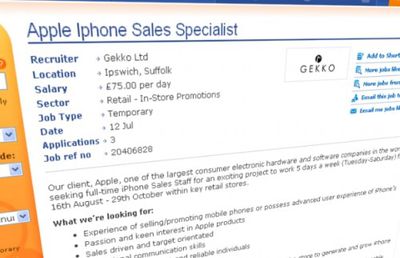 CNet UK reports that Apple UK seems to be increasing its retail store staffing for the period of August 16th to October 29th, 2011.
The post, which was sent to us by a tipster, asks for "full-time iPhone Sales Staff for an exciting project to work 5 days a week (Tuesday-Saturday) for the period 16th August - 29th October within key retail stores". The posting appears several times on Reed, with each post covering a different area of the UK.
The increased iPhone staffing, of course, triggers speculation that Apple may be launching a new iPhone during that time period. The window is fairly large spanning August through October, but coincides nicely with circulating rumors. Apple has been long rumored to be introducing the iPhone 5 in or around September.
The job listing was posted on July 12th and lists the Job Type as "temporary". The work involves selling/promiting mobile phones to generate and grow iPhone sales to ensure sales targets are met. A 4 day training event is required that dates from August 9th - 12th.