New Apple Print Ad Touts iPhone's Business Savvy
As enterprise stalwart RIM falters, Apple is stepping up its targeting of business users with this ad on the back page of The Economist, a very influential business magazine. The ad notes several business apps, including Bloomberg, The Economist, Oracle Business Indicators, and iWork; and ends with the tagline:

iPhone loves business. With over 425,000 apps, the best phone for apps just keeps getting better.
In Apple's Q2 2011 earnings call, COO Tim Cook noted that 88% of Fortune 500 companies are deploying or testing the iPhone, with 75% doing the same for the iPad. Apple also has an extensive iPhone in business page, including case studies and information on how the iPhone can integrate into a company's existing IT infrastructure.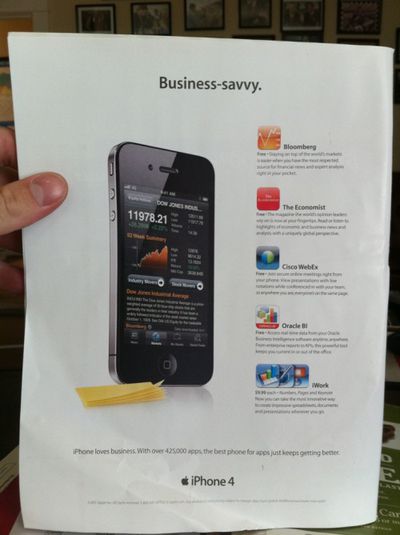 Thanks Tim!